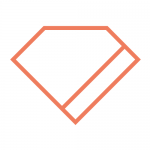 Content helps you create connections
In our opinion, a lot of your website's success is determined by its content. Content Marketing is about creating a connection between you and your (potential) target groups. It means to tell your company's story – with words that your audience uses and on marketing channels your audience prefers. Learn how to apply storytelling to achieve business goals. And get an understanding of what good content means for your company.
Learn how to promote your business goals with Content Marketing.
Set up a Content Marketing Funnel to engage your audience with different kinds of content pieces

Understand content KPIs

Learn about Content Marketing best practices
Find out how to make out well-done content.
Learn about the different layers of content quality
Understand to create stories that resonate with your target groups
Audit your content and its performance
What to talk about – and how to talk about it.
Find out why it is important to find your company's content niche
Determine your content sweetspot using the user empathy map
Understand the different content channels as well as their requirements regarding form and tonality
Vision for your company's Content Marketing goals
Content audit
Workshop to find content tailor-made for your target groups / personas
Cheat sheet: What content can do for you along the sales funnel
From $2,100 to $3,000
Depending on the company size and project scope.